Brief History
Over the past decade there has been a decline in ceramics education in the UK and the Ceramic Community is facing a major crisis. Many ceramics departments have closed and remaining courses have a multi-disciplinary approach and production techniques are marginalised in favour of concept and design.
It takes years to train a studio potter. Unfortunately, many art colleges are finding it difficult to offer throwing in any meaningful way, so it is more important than ever for a student wishing to make functional and studio pots to have the opportunity of an apprenticeship with an experienced professional potter.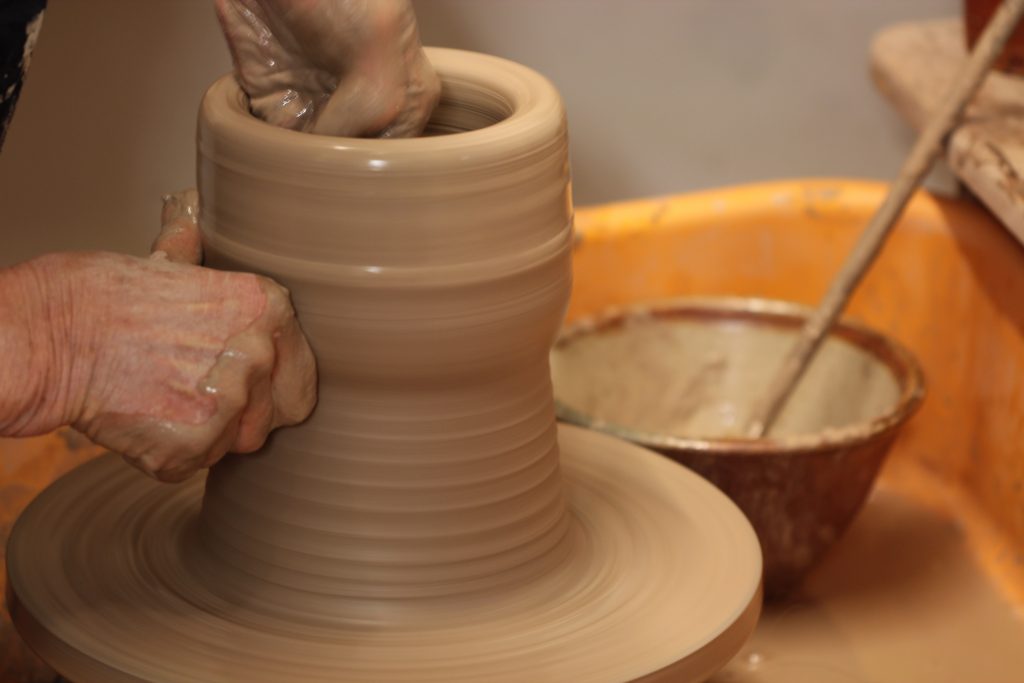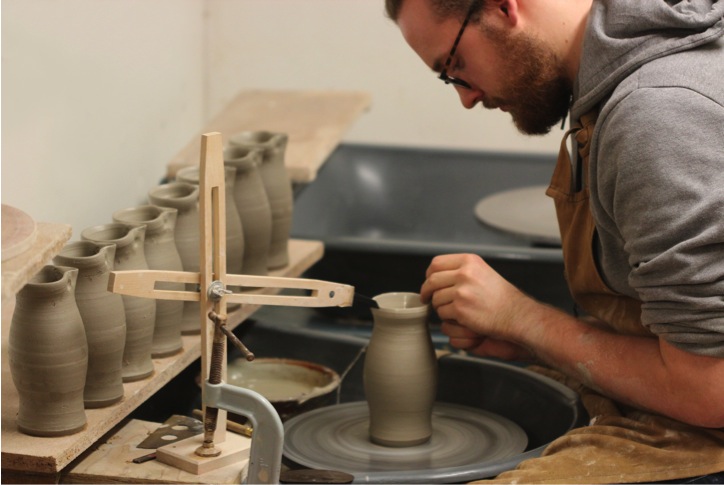 Adopt a Potter – Helping the Next Generation
Adopt a Potter was founded in 2009, the original idea for the Trust came from an experienced potter – Lisa Hammond – who has a tradition of taking apprentices at her studio in London. Adopt a potter supported potters taking on apprentices. Giving apprentices the opportunity to work alongside master potters and embark on useful career paths
Since 2009 14 apprentices have been supported and some of these apprentices have become well recognised potters in their own right.Adopt a Potter has a simple aim: to help in securing the future of studio potters.
Building on our successful apprenticeship scheme, this is the right time to develop our offer to a new generation of potters, by developing a second phase of work with the establishment of a ceramics college. The timing could not be more prescient given the aging of the skilled craft sector – the existing community of master potters, trained in the 'golden age' of studio pottery in the '60s and '70s are approaching retirement and their skills will be lost if no facility exists for them to pass on their experience to the next generation.
The college will offer a skills-based, full-time ceramics course taught by potters who make a living through ceramics, something unique in the UK. From September 2017, a two-year full-time course will be run for 14 students, with each year consisting of three 15-week terms.
The emphasis will be on core skills and the use of materials.  Students will be taught all aspects of design, throwing, glazing, kiln building and firing, alongside traditional hand building and decoration techniques. This will be augmented by modules focusing on business and marketing which will offer students the opportunity to become self-sufficient, developing their own business model to suit their work and sufficiently skilled to join a work force in a production pottery.
Alongside the course, we will host an artist-in-residence and overseas exchange programme, running evening classes, masterclasses, and lectures for the public together with a programme of community engagement to reach young people living in the local area.
We have found a stand-alone building within the Middleport Pottery site which has recently been  beautifully restored by, The Prince's Regeneration Trust and is now owned and managed by the UK Historic Building Preservation Trust (UKHBPT). As it has previously been used as a pottery, it offers suitable teaching and work space, two electric  kilns and a large outdoor gas kiln on site, also  a gallery space with minimal intervention required to set it up for teaching purposes. It is in close proximity to a space we have identified that can be used to build wood and experimental kilns.
The advantage of the Middleport Pottery site is that students would be able to immerse themselves in a lively ceramics community with both commercial and artisan potteries on their doorstep, whilst through their studies, helping to ensure that the Middleport Pottery remains relevant in the future.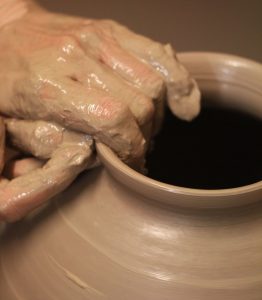 In order to bring this project to fruition, we need your support to help us to set up Clay College Stoke by making the required changes to the building, purchasing the teaching and practical equipment and supporting our first group of students. 
You can do this through supporting Adopt a Potter
Adopt a Potter, Maze Hill Pottery, The Old Ticket Office, Woodlands Park Road, London, SE10 9XE
Adopt A Potter Registered Charity No. 1130164