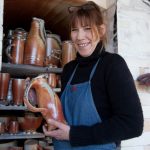 Lisa is regarded as one of the UK's leading studio potters and has a reputation for being the most driven of potters and for constantly challenging her practice.   Her work is represented widely in museums and collections worldwide.
Lisa has worked in Greenwich, London, since 1979 and in her present studio, Maze Hill Pottery since 1994, with the exception of a year spent working and teaching in Australia and 3 years when she helped set up a studio and gallery in Devon which are still thriving. She has also worked to commission: she made ceramic work of Turner prize nominee Roger Hiorns, has designed and made for the National Gallery and for several Michelin-starred chefs.
From 1980 to 2008, Lisa taught and lectured at many of the UK's best known ceramic departments, most notably Goldsmiths, University of London for 12 years, pioneering the teaching of soda glaze firing.
In 1998, Lisa started taking on apprentices from all over the world. All 12 full-time apprentices are still working and making a living in ceramics. As the Founder and Chair of Adopt a Potter, she has also been responsible for 13 funded apprentices since 2009.
She is a Fellow of the Craft Potters Association of Britain and was its Vice Chair for three years during her 9-year term on the Council. In 2016, she was awarded an MBE for services to Ceramics and Preservation of Craft Skills.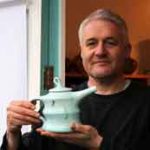 Matthew Blakely has been a professional potter for twenty three years. Born in the UK, he emigrated to Australia and studied Ceramics at The National Art School in Sydney, winning the State Medal. In 2002 he returned to the UK setting up a pottery in Lode, near Cambridge, building self-designed gas and wood kilns. He is a Fellow of the Craft Potters Association and served as a Council member for over seven years
Having established himself as a maker of gas and wood fired functional pots, he was awarded an Arts Council grant in 2010 allowing him to develop a materials based approach to his work. In this he explores the link between the development of pottery and the geology of particular locations, creating pieces entirely from rocks and clays collected in specific sites around the country. This approach takes Ceramics back to its essence and illustrates a new way of looking at the geology of Britain. The impurities and, often, rare minerals present in these materials, in combination with the process of wood firing, gives his work a unique character and depth.
Matthew also runs regular classes and weekend workshops and is passionate about sharing his knowledge and experience.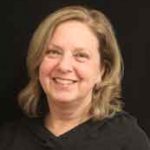 Lesley is an investment professional with over twenty five years' experience in financial markets. Having managed Asian equity portfolios for two large UK life assurance companies before becoming one of three founding directors, as well as Company Secretary, of a boutique asset management company, she adds to the Financial and Governance skill set of the Trustees.
Prior to her City career, Lesley was a secondary school teacher and has maintained her interest in education as a Governor of a primary school in the East End of London. She is a hobbyist potter and has been attempting to develop her skills at the craft for a number of years!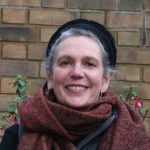 Karen discovered pottery after studying chemistry at university and has been working at her studio in Hackney for over 35 years.
She is a former Chair of the CPA and acted as our indepemdant advisor durung recruitment of the Clay College Course Director.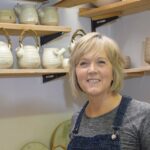 Elaine developed an early interest in a wide variety of crafts but with no formal art education it was many years later that the influence of a television programme, The Craft of the Potter, first aired on the BBC in 1976, ignited a passion for thrown Pottery.  Working full-time in the family business and having children delayed progress until the opportunity to pot full-time in 2015 lead to Elaine producing and selling at local craft fairs and from her studio 'at the end of the garden'.
An 'out of character' decision to apply for The Great Pottery Throwdown resulted in a place on the show which aired in 2017 and an internship with Kate Malone.  Working for Kate gave an insight into the efficient running of a studio and a successful business in Ceramics.
A place on the first intake of the Diploma course at Clay College, provided a wealth of experience in production throwing, developing glazes, experimenting with a variety of firing techniques and more importantly exploring the possibility to be more creative with clay. The knowledge of 25 of the most successful Studio Potters along with the course Director, Kevin Millward has provided the essential skills for years of further development.  She now produces functional but decorative wheel-thrown pieces in stoneware from her home studio in Buckinghamshire.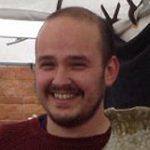 Darren studied a foundation course at Kirklees College where he developed his interest in ceramics before moving to Wolverhampton University where he developed a passion for salt and soda kilns. He was apprenticed to Lisa in Maze Hill and Devon where he developed his skills.
Darren produces small batches of domestic ware for cooking, serving and presenting food working from Maze Hill Pottery. His pots are fired in a reduction atmosphere, alternating between Wood and Gas Kilns with the glazes consisting of Celadon, Nuka & Ash on a stoneware body. He teaches private classes during the week and is also the Technician at the Institute of Making, University College London.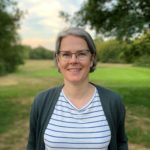 After graduating from the University of St Andrews with an MA in Modern History and Art History, Jo completed an Internship at the Peggy Guggenheim Collection in Venice and worked at the Scottish National Gallery and The Fruitmarket Gallery, Edinburgh.
A temporary move to London, to work at Penguin Books, somehow became 30 years in publishing and she is currently Production Director for Hodder & Stoughton, John Murray Press, Headline Publishing Group and Quercus Books at Hachette UK.
In 2015, Jo attended a Masterclass at Maze Hill and asked if Adopt a Potter needed any volunteer help.  She rapidly found herself providing administrative support for Lisa in the early planning stages for a national training centre and has been involved with Clay College ever since.
Jo is a collector of studio ceramics and a tragically amateur potter, which means she knows just enough to have the utmost respect and admiration for all potters!