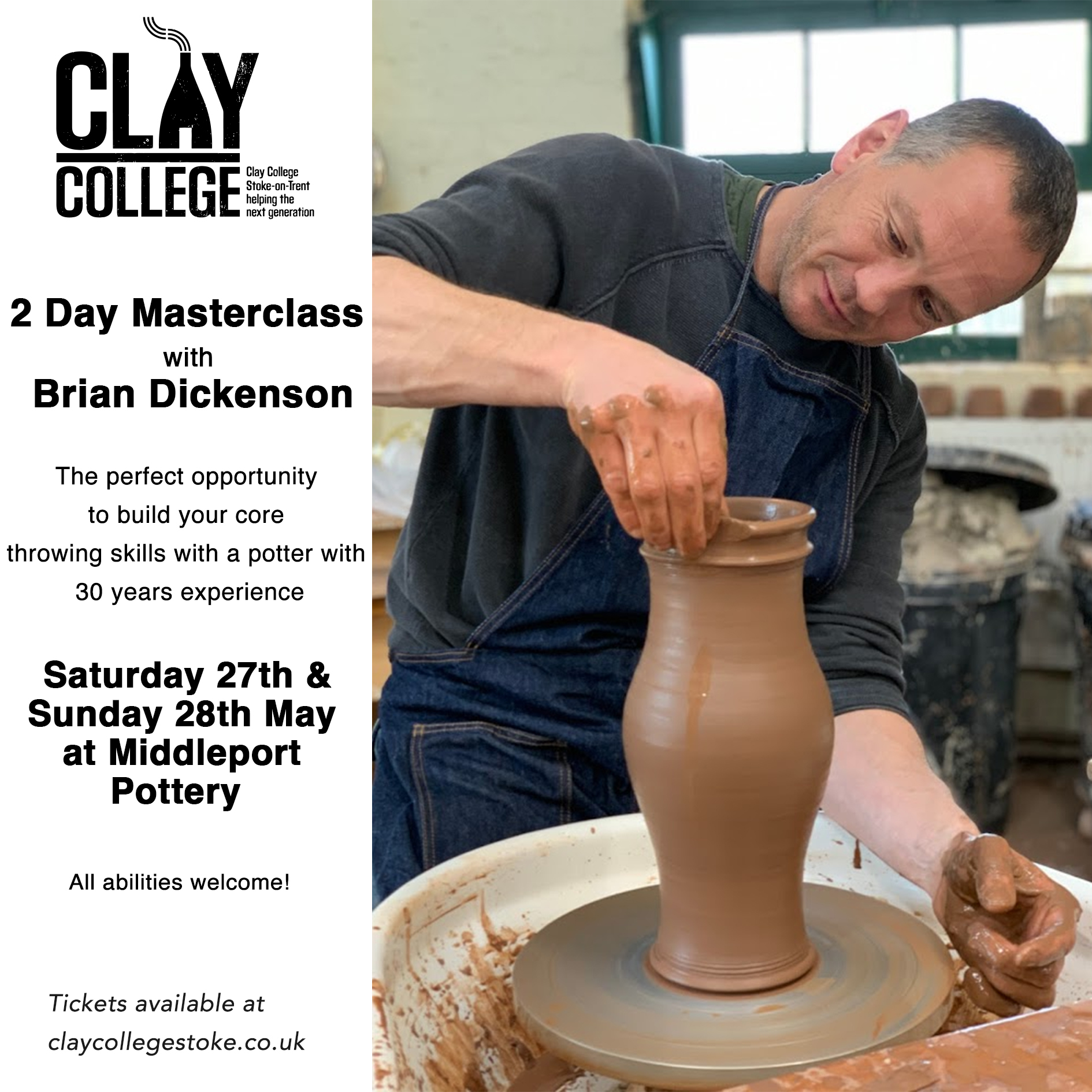 2 Day Hands on Masterclass with Brian Dickenson
May 27 @ 9:00 am

-

May 28 @ 5:00 pm

|

£250.00
Clay College Stoke is so pleased to be able to offer a 2-Day Hands-on masterclass from the 27th to the 28th of May. All comers welcome, this is the perfect opportunity to build your core skills, including wedging, kneading, trimming, reclaiming, repeat throwing, as well as throwing cylinders, bowls and flatware.
The class will be led by Brian Dickenson, an extremely skilled potter who has over 30 years of experience in making ceramic wares. His speciality is thrown functional wares and has run three professional workshops producing high-fired Stoneware, mid-temperature Slipware and more recently traditional Earthenware. This course is suitable for both beginners who are starting out, as well as intermediate students that would like to brush up and get professional tips to improve their core throwing skills.
Situated in the historic Middleport Pottery, the College offers a creative environment and excellent facilities including a potter's wheel for each student. We are not able to fire any of the pieces from this masterclass but if you would like to take 3 pieces of your work, please bring a box for safe transporting.
The college will be open at 9.30 am each day to allow for a 10 am start and clear down at the end of each day will begin at 4.30 pm so as to be out of the building by 5 pm.
Clay College is a not-for-profit organisation so all the proceeds from our masterclasses support the work we do.
Please visit our full Terms and Conditions here: www.claycollegestoke.co.uk/terms-and-conditions/