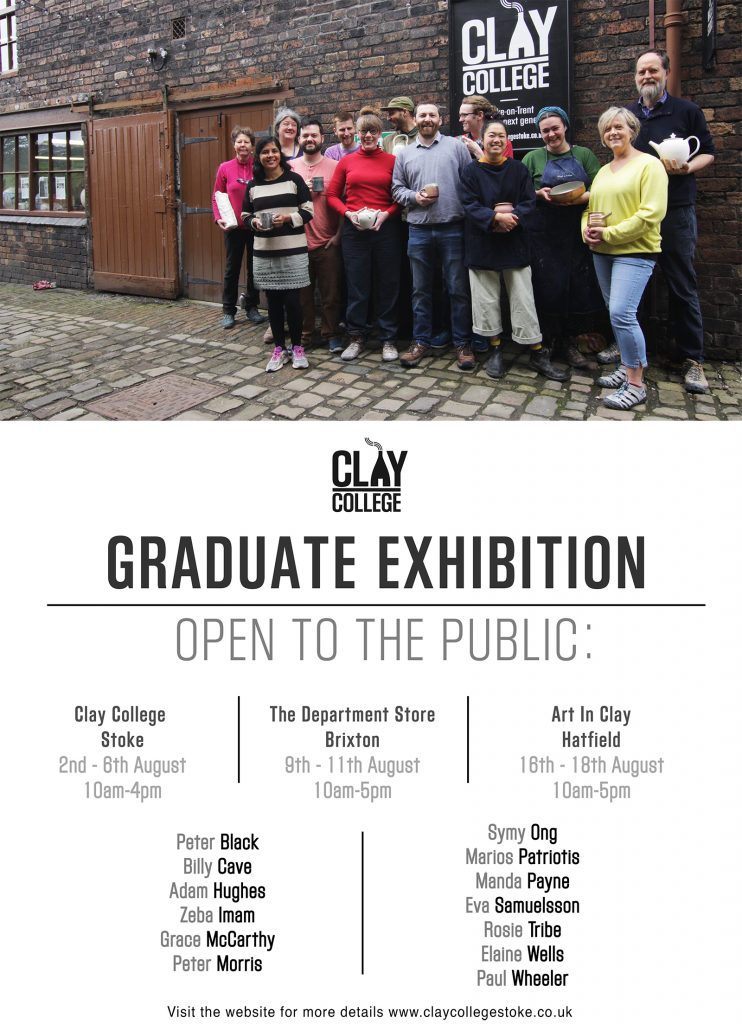 I am drawn to making techniques that celebrate a pot's journey: those that reveal the maker's hands and the wheel in harmony, exposing successes and honest imperfections. In my own approach to making I have crafted wooden tools that evoke the marks of turning, the softness and spinning of the clay on the wheel.
In firing, I have chosen to salt glaze, for its characteristic texture of subtle or marked pitting. This type of glazing enhances the clay surface, highlighting any mark-making, as the salt embeds itself and reacts with the underlying slip.
At its best I feel this approach produces freshness and vibrancy, and the everyday can become something unique and individual, with its own character.
While at Clay College, I have explored forms and mark-making that reference architecture, in particular, buildings I have visited that have left an impression on me. I am also inspired by ceramics of the 17th and 18th century – a period of great innovation, growth and creativity in Europe, and of exquisite ceramics in Asia. My work focuses on the familiar, taking it forward with a dash of humour and an oblique nod to its source. I am most happy with a finished piece that makes me smile, that might be an old friend and that I find myself seeking out.
Email: peter@blacks.org.uk
Instagram: peterblack3541
Facebook: peter.black.52­
In many ways I feel that the last thing the world needs is yet another person making even more stuff. Therefore, I am intentionally sticking to the essential basic items, producing them to as good a quality as I can, with the hope that they will last a long time and be enjoyable enough to use that they avoid getting replaced by a newer model.
I think that when something has been made with care and a sensitivity to the material. The finished piece has qualities to it that a machine produced product can never possess.
My work is produced in stoneware clay with wood ash glazes fired in a reduction atmosphere. This atmosphere gives the clay a toasty colour and makes the wood ash subtly different shades of blue to green depending on the minerals that the tree drew from the soil.
I am interested in the unpredictable qualities that come from the process of wood firing. I intentionally try to keep my forms and glazes as simple as possible so that they do not distract from the characteristics that come from the wood firing process.
 Email: billy.cave2@gmail.com
I grew up in the beautiful countryside of Shropshire, near the border of Staffordshire. Spending a lot of my childhood running through the local woods, which are dotted throughout with old sandstone quarries, has had a direct influence on my hand built work. It is wonderful to see the way that nature returns to these abandoned structures, to see the moss and plant life taking back the worked surfaces. I like to explore the textural differences between the natural sandstone and man-made surfaces. I would like to think that I can replicate this some way in a tactile piece of artwork.
My functional pieces are born out of a similar aesthetic; I try not to hide the clay completely with my glazing since it is such an integral part of the piece. I like to see the whole pot, the form, the decoration and the material of the body itself. I wanted to create a range that I like to use myself with the pleasure found in serving home-made meals in handmade pots.
I try to use local materials as often as I can and currently use a blend of Shropshire and Staffordshire clays in the body of the pots. I fire in my gas kiln with a managed reduction and oxidation atmosphere firing schedule to try to show the best qualities of both the body and the glazes.
Instagram:@adamhughesceramics
The joy of moulding clay into functional forms, hours of meticulous mark making, inspiration from natural surroundings and clues from everyday artifacts, these are the elements that collapse the binary between art and craft in my pottery.
I hold a PhD in interpersonal communications from Texas A&M University, and have taught as a gender studies professor in one of India's premier social science institutes. Given the breadth of my academic credentials and my life experiences across three continents (Asia, Europe and North America), I create pottery that is not only informed by my expertise of traditional and contemporary ceramics, but is also a reflection of the diversity of my experiences.
My work is primarily wheel thrown. I use stoneware clay with slips layered on the clay body by varying brush strokes to produce desired textures. Marks created from oxides and the technique of sgrafitto are used to add further dimensions to the slipped surfaces. Finally, my choice of glaze, designed to obscure and reveal marks, allows these layers to be fused in harmony. These techniques enable me to infuse my pottery with impressions of the natural world. Impressions that appear on the surface of pots as hints and clues which accommodate multiple interpretations.
I endeavour for each of my pots to possess a unique identity and the quality of invoking serene, contemplative moods, thus enabling my works to live a dual life: as objects of routine use and as works of art.
Instagram: @zebaimampottery
Website: zebaimampottery.com
Ceramics is such a versatile material to work in. The main attraction for me is that it lends itself to so many avenues of making and firing. Anyone is able to express themselves through clay in an array of techniques and process. Clay is never something that you can know everything about, you never stop learning with this material.
I have a range of influences that feed into my work from ancient Iranian ceramics to 1970s English studio pottery. The work that I produce is predominantly made on the potter's wheel and my aim is to make functional domestic ware that can be used in daily life.
I have always been interested in everyday objects and the relationships that are formed with them. I feel the more that you use an object the more subtleties produced by the making unfold. It is important to have a relationship with the objects around us rather than discarding them after a few uses, that's what drives me to make functional objects.
The pieces that I have produced during my time at Clay College are very simple forms with modest brush decoration, glazed or lined with a Shino glaze. The simplicity of the work is important to me as I really want to encapsulate the firing process. Both soda and gas firing really transform the pieces. Soda firing especially has an unpredictable nature that leaves marks from the soda transforming the pot through the flames.
My time at clay college has informed my making. It has enabled me the time and space to explore and develop my work and given me a foundation to carry on and keep learning and growing for the future.
Website: www.gracemccarthy.co.uk
Email:  g.e.j.mccarthy@gmail.com
Instagram: @gracemccarthy_design
Making both functional and sculptural work I aim to create objects people want to be around for their functional and aesthetic value. Having previously trained and worked in chemistry I have a desire to control and experiment; making work in both soda and electric kilns allows me to express these differences. Electric firings allow for controlled experimentation with glazes and surfaces, something my previously scientific self is drawn to greatly. Conversely, in soda firing the potter gives up a certain amount of control, making the process and fire itself to be collaborators and allowing for new expressions to be found in the results.
While always discovering new things I take much of my inspiration from the designs of early 20th century art and shapes, I prefer strong lines and consistent elements that bare a relationship to each other.
When making, I like to think of the right process for the desired effect: for the bold shapes of my functional ware throwing makes much sense, while more sculptural work lends itself better to a hand building approach, that can allow for pause and reflection on the work in progress.
Throughout my work I have sought to balance the differences within myself expressing different ideas in functional and sculptural pieces but despite this I find them to both be me.
Instagram: @peterj3090
I am interested in the relationship between people and objects, how people create objects and make them beautiful and the significance people bestow upon those objects because of that. I really believe that objects can enhance experience, like a particular pot being used in the preparation of a meal, and how one can make objects with this in mind.
I am interested in pattern in my work; pattern is a human interpretation of nature and the beauty of natural objects. It is what you see plus how you see it. I believe the difference between the beauty of natural objects and man-made ones stems from how the brain interprets pattern and I play with the tension between these two in my work, inspired by not only the natural world but also historical pottery. I am fascinated by how past peoples have interpreted the world as they saw it. I am intent on wood-firing as a way of exploring this tension and as a beautiful process in itself. I am also fascinated by ash and rock glazes and all the possibilities they offer for another connection to the naturalness of materials that ceramics has such a propensity towards; that makes ceramics so very inviting.
Email: jynsymong@icloud.com
Instagram: @jynsym
My interest lies in gas and wood fired pots. My aim is to create simple and utilitarian pots with strong forms that are used every day. I use stoneware and porcelain clays and I draw inspiration from Greek, English, Japanese and Korean pots.
Growing up in Athens surrounded by ancient Hellenic pots, I have always had an interest in pottery. The lack of artistic education and the rise of economic difficulties in Greece drove me to London in 2008.
In the UK, I completed a BA Graphic Design degree at Central Saint Martins. Throughout the course, I came to the realization that I was in need of a more hands on profession.
Upon graduation, I decided to try and work with clay so I took some evening classes at London open access studio Turning Earth and Maze Hill Pottery. I immediately fell in love with the tactility and softness of the material. Later, I spent three months as an intern at Maze Hill Pottery with Lisa Hammond. During my time there I improved dramatically. That made me decide to apply for the course at Clay College.
After the end of the course I will be travelling to Australia for six months to spend time with potters such as Robert Barron, Steve Harrison and Ian Jones. During my time there, I am hoping to learn more about wood firing, kiln building and improve my making skills.
Instagram: @marios_patriotis
Email: Mgpatriotis@gmail.com
My work references the Cornish countryside, where the vibrancy and freedom of nature is impactful in everyday life. I explore surface combinations that evoke hues of flora and fauna, textural qualities of earth and rock and the fluidity of water.
Wheel thrown ceramics is my medium, I am fanatical about shape and use the fluid motion of throwing to create strong silhouetted forms which underpin and exhibit contrasting surface textures.
I am in pursuit of tactile surfaces that combine and contrast raw clay, glassy vibrant glaze colour and dry matt texture. Each ceramic piece is made to be touched.
My colour palette is directly sourced from my local environment and I include natural materials such as granite, wood ash, rust, and local clays. I fire in both reduction atmospheres and oxidation.
My work is is consciously suggestive of nature – purposefully bringing the outside inside.
Website: http://mandapayne.com
Instagram: @mandapayne
Email: manda.payne@gmail.com
Based in the Spitalfields area of East London, UK, I have been a ceramicist on and off since 1983, and am currently completing a unique two year programme as one of the first students of Clay College, in Stoke-on-Trent. Whilst previously a dedicated thrower, I have extended my skills to hand building, developing a specialist line in lighting pieces.
I make table and pendant lights in translucent porcelain. Tea-light candleholders also form part of my range. I grew up in Sweden, where lighting is important in helping to diffuse the dark winter nights and makes an important contribution to stylish home and business interiors. My lights draw on the sparseness and elegance of form characteristic of the Scandinavian style.
Built with porcelain paper clay or fabric drenched with porcelain slip, my objects are thin and translucent but retain the supple structures of their functional materials. Each piece develops its unique persona as it is constructed. They are then fired in an oxidising atmosphere. The table top lamps are set on a contrasting black ceramic base. Both types of lamp are equipped with professionally tested fittings, so are fully functional as well as being beautiful.
Website: evasamuelsson.com
Email: eva@evasamuelsson.com
Instagram: eva_ceramics_
The Whitstable coast, its land of sea and sky has had a dramatic influence on my life and work. Having been an avid stone carver, the cutting of the raw stone, the way light and shadow play on the surface has directly informed the way I now work with clay.
The movement of glazes, how they run over the faceted surfaces during firing fascinate me. The local Ash Glaze made from estuarine clay, dug below low water neaps at Whitstable flows as water down my pots, leaving pools in the deep facets.
My need of both the sea and the land has been present throughout my life; the beach, sailing, veg box scheme. It has all come together through pottery, grounding me while I throw.
The need to tend pots throughout reduction firings is important, as is the love of fire.
Steve and Janine Harrison's visit and the building and subsequent firing of the Clay College's efficient train kiln has inspired me. With other potters local to me, I am looking to build a long throat train kiln in a coppice in Kent.
Instagram: @rosietribepottery
I am a British Studio Potter from Buckinghamshire producing wheel thrown functional and decorative pieces in stoneware.
I developed an early interest in a wide variety of crafts but with no formal art education it was many years later that the influence of a television programme, The Craft of The Potter, first aired on the BBC in 1976, ignited a passion for thrown Pottery.
Working full-time and having a family put further development into suspension for several years until the opportunity to pot full-time in 2015 lead to producing and selling at local craft fairs and from my studio 'at the end of the garden'.
An out of character decision to apply for series 2 of The Great Pottery Throwdown resulted in a place on the show and subsequently an internship with Kate Malone. Working for Kate gave me an insight into the efficient running of a studio and a successful business in ceramics.
The realisation by Lisa Hammond of Clay College in Stoke-on-Trent provided further opportunity to be part of a complete Studio Pottery Course. Clay College provided a wealth of experience in production throwing, developing glazes, experimenting with a variety of firing techniques and more importantly exploring the possibilities of being more creative with clay. The knowledge and teaching of over 20 of the most successful Studio Potters along with the course Director, Kevin Millward, has provided the essential skills for years of further development.
Email – Elainewellspotter@gmail.com
Website – Elainewellspotter.co.uk
Instagram -Elainewellspotter
I came to pottery by accident, through my studies at university in Japan, and it is from this experience that I draw much of my inspiration. The Japanese appreciation for the changing seasons, of the natural world, and their singular use of ambiguity and subtlety left a lasting impression on me, and I aim to articulate these ideas in my work when I am making.
The notion of taking an object that is in its essence industrial and mass produced, and creating a handmade interpretation of it interests me – much in contrast to the way in which industry has taken handmade pottery and produced highly successful industrial versions of it. One example of this is the inspiration I took from the humble baked bean tin and made it into a mug – I am interested in taking something familiar and developing it in a different direction than was intended.
The concept of 'urban decay' is one that I think of often: of everyday objects all around us breaking down into their component parts and returning to the earth. I am keen to develop a range of glazes that conveys this sense of decomposition so as to make a 'fresh out of the kiln' pot appear much older than it is while also imparting the sense of the passage of time to the observer, much in the same way as certain Japanese ceramics.
Instagram: paul_wheeler_pottery